Apple TV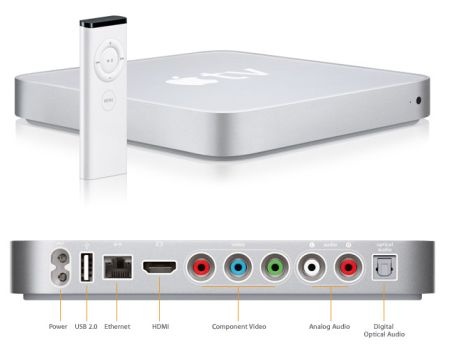 Convergence between internet and cable/satellite/broadcast has been the buzz for a few years now and Apple TV is one of the first devices to make it easy for the average consumer. All you need is high speed internet, a network (wired or wi-fi) and the cables to hook up your HDTV. Setup is simple.
I purchased my Apple TV in June 2007. It's worked flawlessly for over two years now. Of course you can listen to music through your entertainment system and watch recent movies and TV shows on your TV. With the software upgrades Apple has added the ability to send audio from the Apple TV to any other sets of speakers connected to your network. I have an Apple Airport Express in my study and also my wife's study. In effect we can pump out The Beatles to Beethoven to every corner of our house.
The big surprise to me…
… was that I would become hooked on video podcasts and YouTube videos. There is lots of useful information on podcasts. Whether your interests are in gadgets, cooking, pets, broadcast news repeats, whatever; you'll find entertainment and useful information in these podcasts. It's easy to find video podcasts through the iTunes store. I like being able to watch them in the comfort of our den, instead of watching hunched over my computer in the study. You can download podcasts or just stream them over your wi-fi network.
My only request to Apple…
… is to combine Apple TV with the Mac Mini so I can also surf the internet on my HDTV. All you would need additionally would be a bluetooth keyboard and some sort of bluetooth pointing device (mouse). With such a device, we would essentially have full convergence of internet and traditional television content in the comfort of our living room.
In a future post, we'll discuss how you can add more capability to your Apple TV using a free program called Boxee.
Do you have an Apple TV? We'd like to get your comments. Please click on the link and let us know about your user experience.
Why am I blogging about gadgets? Find out here!